Więcej rozdań na Urodaizdrowie.pl - TUTAJ
Miło mi poinformować, że w rozdaniu wygrała:
- zaczarovana (woda Jean Marc różowa oraz etui)
- Kas (peeling oraz woda)
serdeczne gratulacje!
Warunkiem otrzymania nagrody było:
- obserwowanie bloga
- dodawanie
komentarzy (jedna osoba powinna (ale nie musi) dodać minimum 30 komentarzy) do nowych lub już istniejących postów
Wygrywają dwie osoby
(pierwsze miejsce perfumy Wild Secret i etui o wartości 65 zł a drugie perfumy Mohito i żel)
Liczy się nie tylko aktywność na moim blogu, ale też konstruktywne, ciekawe komentarze, także nie koniecznie wygra osoba o Największej ilości komentarzy tylko ta aktywna i sensowna.
Mam nadzieję, ze nagrody się podobają? Liczę na szczerość:) Jeśli uznacie, że warto rozdanie gdzieś zamieścić np. na fanpage FB to napiszcie też o tym, będzie mi milutko:)
.
Woda perfumowana Mohito to propozycja przeznaczona dla kobiet romantycznych, preferujących owocowo-kwiatowe aromaty, utrzymujące się na skórze przez wiele godzin. To niesamowite połączenie słodkości właściwej dla róży, fiołka, konwalii i magnolii z niezwykle pociągającymi i odświeżającymi tonami grejpfruta, jabłka, ogórka i drzewa sandałowego. Mohito to bogata kompozycja, dynamiczna i świeża, która nie tylko podkreśla kobiecą indywidualność, ale robi to w sposób uwypuklający wszystko to, co w nas najlepsze – ciepło, uczucie i wrażliwość, wartości najbardziej cenione przez kobiety romantyczne i eteryczne.
Czarne Etui na smartfona lub tablecik ze sklepu
www.mobilefashion.pl
Czerwone jest moje - nie oddam!:)
Mohito

Jean

Marc

, 50 ml, ok. 16 zł

Jean

Marc

Wild Secret to propozycja wody perfumowanej, która przypadnie do gustu kobietom egzotycznym, odważnym i przyjmującym życie z otwartymi ramionami. Kompozycja kwiatowo-orientalna, bardzo rześka, ale jednocześnie – przyciągająca uwagę akcentami stanowiącymi synonimy bogactwa, szyku i elegancji. Kobieta ubrana w Wild Secret kusi aromatami paczuli i drzewa sandałowego, które w szlachetny sposób łączą się ze słodyczą jaśminu, kwiatami pomarańczy i wanilią. Delikatne nuty piżma dodają kompozycji niezwykły, świeży aromat, tak pożądany po zimowym sezonie.

Wild Secret

Jean

Marc

, 100 ml, ok. 19 zł

Żel myjąco-peelingujacy do twarzy – POBUDZAJĄCE HISZPAŃSKIE FLAMENCO Z POMARAŃCZ

Ą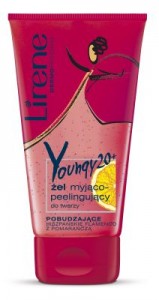 Żel myjąco-peelingujący do twarzy to połączenie efektywnej pielęgnacji twarzy z egzotyczną dawką energii. Wyciąg z pomarańczy to bogate źródło witamin (C, P, A, B1, B2), kwasów organicznych
i mikroelementów. Działa aromatyzująco, pobudzająco, ujednolicając kolorystycznie cerę
i przywracając jej naturalny blask. Delikatne drobinki peelingujące łagodnie oczyszczają twarz, wspomagając proces złuszczania naskórka. Usuwają zanieczyszczenia, odblokowują pory i wygładzają skórę. Zawarty w żelu wyciąg z bambusa, lotosu i lilii wodnej regeneruje skórę i długotrwale ją nawilża.
Poczuj rytm ognistego i zmysłowego flamenco i przenieś się na skąpane w słońcu hiszpańskie wybrzeże.
Udowodnione rezultaty :*
• 100% świeżości i skutecznego oczyszczenia
• 93% – nadaje skórze gładkość
• 85% – skóra jest elastyczna
• 85% – skóra jest miękka w dotyku
*Test IN VIVO – ocena w grupie 27 kobiet juz po 1 użyciu.
Poj.: 150 ml Rekomendowana cena detaliczna: 14,99 PLN